RedNoseK8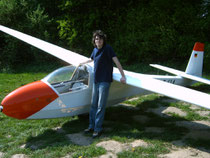 The idea of RedNoseK8 was born in 2006 due to my hobby, which is gliding. On August, 27
I flew our glider called K(a)8 whose "nose" is painted red = Red Nose K8.
I was born in the 90s in Dortmund, Germany, where I still live. The first instrument I've learned was the flute. When I was 11 yers old I wanted to play something else and I chose the guitar which I'm still playing today. In the past I've always played songs, written by other musicians or composers. That point changed in 2009, when I met the artist DigitalArtDream. He made me to buy my own first synthesizer and also taught me how to create my own songs.
Since 2010 I'm also taking singing lessons.
The ideas of my songs don't come to my mind while I'm flying. I get them in  occasional situations as for example on the train, where I don't have any paper or pen with me.